Golf will never be an easy game to master. Spending countless hours practicing and playing to hone your skills is vital in improving your game. Not to mention, to lower your scores. Breaking 100 then 90 then 80 is every golfer's goal. Due to the complexity of golf, every bit of assistance is needed. This is where the most forgiving golf irons come into play.
Gone are the days where golfers had to use blades. Thanks to modern technology, most golf clubs in the world are built to have some level of forgiveness to allow for slight mishits. Even the best players in the world have days where they don't strike the ball as great as they normally do. Having one of the most forgiving irons allows you to have an easier time on the golf course. Here we will showcase some of the most forgiving irons ever.
8 Most Forgiving Irons 
Massive sweet spot to hit it pure every time
Easy to hit the ball high in the air
Mishits still go an abnormally long way
Is a bargain as they are a couple models old
Budget set as of now
The M4 irons made this list as they were specially designed to increase the launch of the ball when struck. Furthermore, the M4 irons were designed with forgiveness in mind. They are extremely accurate irons and with the offset hosel, cavity back design, they definitely meet the criteria of being forgiving irons. Along with the duo of RIBCOR and Speed Pocket which promotes face flexibility for efficient energy transfer at impact and enhanced forgiveness.
Excellent sound on impact
Better looking than the M4
Minimal effort to launch the ball long and high
Face connects to the body only at the leading edge makes it act like a fairway wood face
The SIM MAX irons are designed to perfection. They look amazing and they are packed with technology which offers maximum forgiveness and distance. The head is large and inspires confidence in golfers with its wide sole, offset and thick topline. The Thru-Slot Speed Pocket allows for a free-floating face. When combined with the Speed Bridge, the face maintains stability while delivering maximum ball speed. Moreover, with a floating face, that means bigger rebound and more distance.
Unbelievably easy to hit well consistently
Flat face, not rounded like most hybrids for a more iron-like look
Wide sole for better turf interaction
High spin even with the hybrid back
Mid and long irons much easier to hit
If you are struggling to hit the ball to decent distances with a standard irons, the Cleveland Launcher Turbo HB clubs could revolutionize your entire golf experience. The set starts with a 4 iron shaped exactly like a hybrid and as the set progresses toward the pitching wedge, the hybrid back of the club gets smaller until it is barely visible on the pitching wedge.
The club head is hollow and it provides a center of gravity location you just can't get with traditional iron designs. Furthermore, with the HT1770M steel insert, the club produces turbocharged speeds which translates to more distance for you on every shot.
Power club designed for distance
Wide sole to get the ball airborne quickly
Consistent and forgiving, delivering good shots even on mishits
Super Game Improvement irons that look like standard low handicapper clubs
The Callaway Mavrik Irons are designed to produce incredibly fast ball speeds. Using their A.I. designed Flash Face Cup, they allow golfers to produce long and consistent distance. The faces are thinner around the edges with thicker areas near the sweet spot to maximize center strikes and rectify the off center hits. These clubs are incredibly forgiving and give you maximum distance for your efforts. Besides that, they are great looking irons.
Best bang for your buck in the game improvement category
Deep cavity back for major forgiveness on off-center hits
Stronger lofts with a high launch so you get more distance in every iron
High quality club face and have the looks of sets twice the price
Good price
The D in the Wilson Staff D7 Irons stands for Distance. You can expect the focal point of this club to be power and not finesse. They offer great feel during contact with the ball and excellent control and forgiveness so you know the ball is going in the direction you intend to hit it to.
Improved spin on game improvement irons with milled face
Really helps golfers who strike closer to the toe
Precision grooves and milled face increase workability
Promotes a draw
Lofts are strong, increased distance
Another one of the Launcher series from Cleveland, the Launcher CBX. These Launcher CBX irons are the most beautiful in their category from an aesthetics point of view. The lofts on the Launcher CBX are stronger than most sets so you will see an increase in distance due to that. Beautiful looking clubs with a strong top line and sweet spot to give you forgiveness and makes it easier to hit.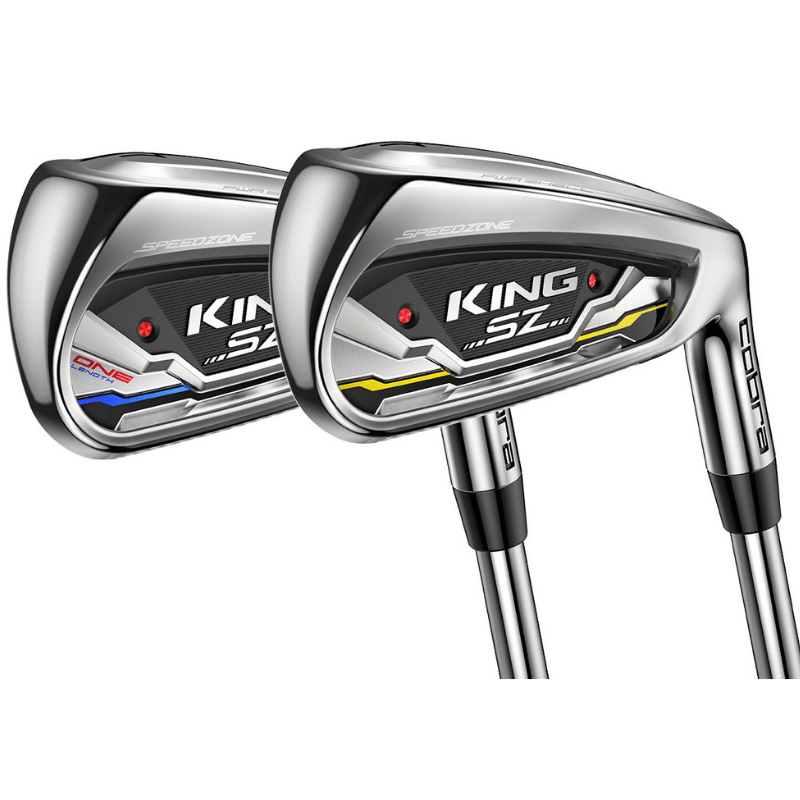 This club is built purely for distance and it goes far
Available in one length
COBRA CONNECT technology at the butt of the grip which allows you to track your stats with each club
Designed for 5 – 25 handicappers
The Cobra Speedzone irons have four zones which optimizes speed. The Carbon Fiber Topline, Forged PWRSHELL Face, Speedback Shape and Co-Mold Medallion. These four aspects of the club head allows for the Speedzone iron to deliver maximum speed, power and forgiveness. Cobra continue aiming their offerings at the mid handicappers and higher handicappers. Additionally, these clubs come in the one length variety which means every club is the length of a 7 iron. Some golfers find that you can get some consistency with all the irons at the same length.
Pro version with reduced offset will offer Chomoly ball speed and performance to players with a more traditional eye
High MOI for more forgiveness
Thicker topline and wider sole inspires confidence
Harmonic Impact Technology
C-Taper Lite Stiff Shaft
Solid feel on impact
Mizuno has always been acclaimed for the irons they produce. Their irons are always forged to have the best feel. The JPX 921 Hot Metal are the most powerful and most forgiving irons in the JPX series. The JPX 921 is a cast set but is an improvement on their previous prior JPX 919 set. If you are looking for a forged set you will love the JPX 921 forged.
With a stability frame placed behind the club face, it creates a high MOI which minimises twist on off-centre strikes. This results in incredible forgiveness in the club. Furthermore, these irons are some of the most aesthetically pleasing irons in the market. 
Summary Of The Most Forgiving Irons Of All Time
Forgiveness in irons will help you be more consistent in lowering your scores and more importantly, enjoy yourself on the golf course. This means less mishits and more greens in regulation! You should get the best equipment for you so go visit your local fitter and find out what's best for you.
Besides constant practice and getting better equipment, you can also work on your fitness and this will tremendously help your game. Strength and flexibility to hit the ball farther, stamina to ensure that by the second nine you are still hitting the ball solid. Check out how you can maximize your golf performance with fitness. On the other hand, if you feel that you are not improving like you should after all the time you spent at the driving range. You should try maximizing your practice during your driving range sessions to make your practice more efficient!
Deemples is a golf app that allows golfers to connect with other golfers. Your golfing buddies might not always be available when you want to play. The alternative is that you could find other golfers to pair up with for a casual game! Deemples is the perfect place for you to do that. Download the Deemples app and host or join games today! Never golf alone again.