When looking to play a round of 18 in the U.S., the good news is that you're spoiled for choice when it comes to having access to some of the best golf courses in the world. Not only have they hosted some of history's most important golfing events, but they cover a diverse range of landscapes and challenges to test the mettle of any handicap.
So, to make sure that you don't miss out on any of these premier golfing experiences, we present the best 25 Golf Courses in the U.S.:
Top 25 Golf Courses in the U.S.
1. Pine Valley G.C.
Located in Pine Valley, New Jersey, the Pine Valley Golf Course was constructed in 1918 by hotelier and golf enthusiast George Arthur Crump. At the time of its launch, it had the ominous reputation of being the most difficult golf course in the world and is still considered the most challenging by many. Thanks to its sophisticated greens and punishing hazards, it's the ultimate test for any master of the game. Pine Valley has been at the top of Golf Digest's 100 Greatest golf courses for a number of years.
2. Cypress Point Club
Overlooking the stunning, rocky coastal line of Pebble Beach, California, Cypress Point Club is easily one of the most picturesque courses in the U.S. It was architected by the World Golf Hall of Famer Alister MacKenzie in 1928. Aside from one of the most stunning walks of any course, it also features a unique course structure with back-to-back par-5s on the front and back-to-back par-3s on the back for an extra challenge.
3. Shinnecock Hills
While Shinnecock Hills is only one of many courses designed by prolific architect William Flynn, it's remembered as hits best to this day. Landed in Southampton, New York, the course is known for its sprawling landscape with gracefully flowing greens and roughs. It's hosted 5 U.S. Opens since 1986 alone with the latest in 2018.
4. Augusta National
Alister MacKenzie's second entry on this list and Bobby Jones'sfirst, the Augusta National is one of the most prominent golf courses in the U.S. The course launched in 1933 and has hosted the annual Masters Tournament since 1934. The course has been frequently redesigned for competitiveness but has retained its stunning natural beauty.
5. National Golf Links of America
This course launched the career of renowned architect Seth Raynor. The course was originally designed by C.B. McDonald to reflect the traditions of the grand old British holes. The National Golf Links of America has had a reputation of being one of the U.S.' most exclusive courses since its establishment in 1911. The host of two Walker tournaments, it's considered a strategic masterclass to this day.
6. Sand Hills
Built-in 1995 by Bill Coore and Crenshaw, Sand Hills is one of the youngest members of this list. Its creators were inspired by the undulating landscape of its location in Mullen, Nebraska. Great care was taken to keep the natural lay of the land, even letting the wind shape the bunkers.
7. Oakmont
You only need to get an aerial shot of this course to see what makes it so uniquely playful and challenging. There are very few trees or water to contend with but the course features eclectically sculpted greens and bunkers. Wind direction and gusts still play a major role at this generally flat and minimalist course, challenging all manner of handicaps.
8. Merion Golf Club (East)
The first of two courses to occupy this club, the Merion East was created by Hugh Wilson in Ardmore, Pennsylvania in 1912. The course features a number of distinct challenges, such as highly variable hole lengths, creeks, an abandoned stone quarry, and twisting fairways. The course has hosted multiple U.S. Opens as well as Bob Jones's 1930 Grand Slam clincher.
9. Pebble Beach
Sharing the same spectacular ocean-side vista as Cypress Point, Pebble Beach is arguably even more stunning than its neighbor. It features some of the most memorable stretches and holes in world golf, including a 75-foot-high bluff over an ocean cove. Most recently, it hosted the 2019 iteration of the U.S. Open.
10. Fishers island
Located on an island off the Connecticut coast, this course is arguably the consummate product of architect Seth Raynor. Equally beautiful and challenging, this course is characterized by geometric greens, steeply banked bunkers, and tumbling terrain. The course is rounded out by no less than two Redan greens and an exhilarating 3rd-5th hole stretch.
11. Friar's Head
Constructed in 2003, this is another course designed by duo Bill Crenshaw and Bill Coore. This course is quickly gaining ground as one of the favorite modern courses today. Spanning farmlands, meadows, and dunes, its links span diverse landscapes with shifting challenges. However, the course masterful routes players back and forth for smooth transitions between holes.
12. Crystal Downs
Created in 1932, Crystal Downs spent much of its life under the radar thanks to its remote location in Frankfort, Michigan. Alister McKenzie and Perry Maxwell's creation finally started to get its due in the 80s after being introduced to Bob Crenshaw. One of the shortest courses on this list, it features strong winds, undulating terrain, and challengingly contoured greens.
13. Los Angeles (North)
Los Angeles North was originally designed by George C. Thomas Jr. in 1927. However, it was redesigned in 2010 by Gill Hanse's team. The idea was to reshape and modernize the fairways and bunkers as well as reintroduce a natural barranca obstacle. The course was also opened up to offer vistas of its host city's skyline. At a huge 7,530 yards, you'll want a proper pair of golfing shoes like those available at Dick's Sporting Goods to keep you on your feet.
14. Pinehurst no. 2
Located in the Pinehurst Resort in North Carolina, this course stands out for its flexibility. In the span of a week, it can provide a fun, but challenging outing for amateurs and host the U.S. Open. It was originally built by Donald Ross in 1907 but largely overhauled in 2014 for said competition.
15. Chicago Golf Course
Built in 1985, Chicago Golf was not only one of the five founding members of the United States Golf Association but also the nation's first 18-hole. This course in Wheaton Illinois was originally created by C.B. Wilson and redesigned by his protege Seth Raynor in 1923. History aside, it's known for one of the greatest opening stretches in the game.
16. Winged Foot (West)
This course was architected by A.W. Tillinghast in Mamaroneck, New York in 1923. Throughout its history, this course has been a tremendous challenge to even the top names in golf. Hale Irwin's seven over par and Geoff Ogilvy's five over par wins stand testament to that claim.
17. Prairie Dunes
When first scoping out the terrain, architect Perry Maxwell came to the conclusion that "There are 118 good golf holes here. All I have to do is eliminate 100 of them." Naturally, the course makes use of the undulating landscape to full effect. Perry's son, Press, added 9 more holes in 1957, providing a full 18 holes of excellent greens in rural Kansas.
18. Riviera
Riviera's success in the unlikely location of a narrow canyon is thanks to a stroke of genius by its architects George Thomas Jr. and Billy Bell Sr. The course introduced new levels for the use of angled greens and bunker design. Finishing this course is akin to playing chess against a chess grandmaster, but equally rewarding.
19. Pacific Dunes
In 2001, Tim Doak surprised and delighted the golfing world with one of the most unconventional courses in recent memory. Chaotic blow-out bunkers, massive dunes, and curvacious dunes make this one remember. This course also features a signature par sequence that's both unexpected and refreshing at the same time.
20. Seminole
Architect Donald Ross used clever routing on a rectangular site to offer a majestic play-through. One of the U.S.'s most exclusive courses, it was finally showcased in a televised Covid relief event in May 2020. While it has had its greens and bunkers designed on a number of occasions, it retains its majestic beauty, flanked by the Atlantic.
21. The Country Club
Located in Brookline, Massachusetts, this course has been a favorite among high society for its entire 120+ year history. The course has hosted no less than three U.S. Opens as well as the 1999 Ryder Cup. A classic design characterized by medium-size greens, tree-lined vistas, and lakes take one back in golfing history.
22. Somerset Hills
Featuring two nine-hole courses, Somerset hills are considered by some to be T.W. Tillinghast's best work. Located in Bernardsville, New Jersey, the course consists of two distinct halves: one open and breezy and the other in the woods. Another one of its prime attributes is how excellently the natural water features have been incorporated into the course.
23. Oak Hill (East)
Designed by Donald Ross in 1920, Oak Hill is located in Rochester New York. It has been revisioned numerous times, first to change it, and then to bring it back in line with Ross' original vision. It offers expansive sightlines and gently undulating greens. The course is now slated to hold the 2023 PGA Championship.
24. San Francisco
Unlike most other courses, this T.W. Tillinghast design's most eye-catching feature is its exquisitely shaped bunkers that dot the vast open landscape. The drop-shot par-3 7th hole, called the "Duel Hole," is the last place a legal duel took place in the U.S. However, the course is favorited among golfers for its excellent par-4 holes.
25. Camargo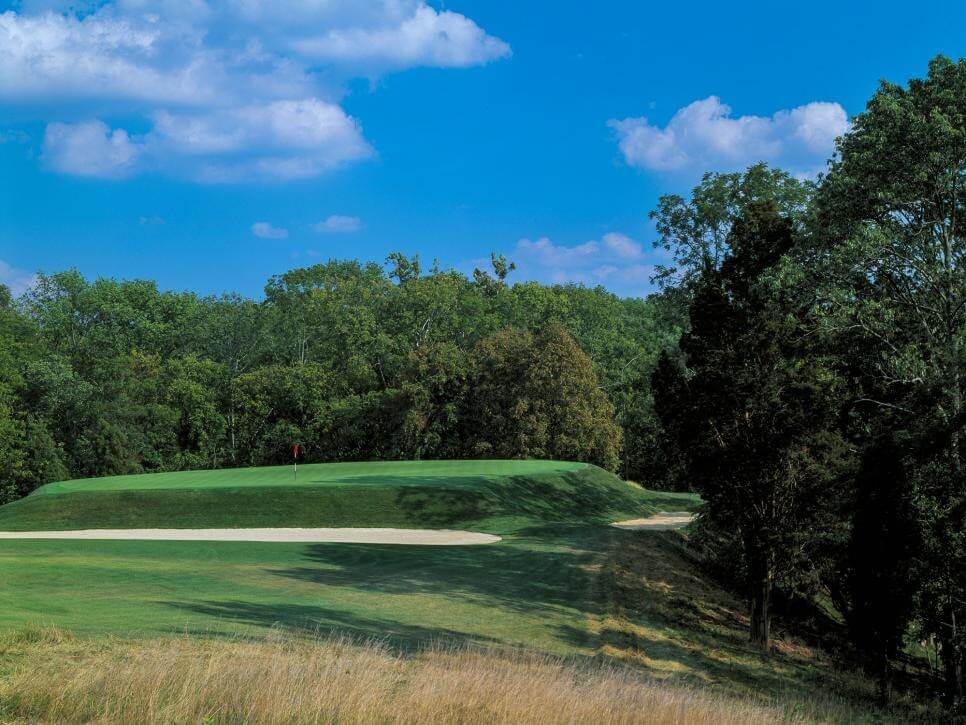 Located in suburban Cincinnati, this marvel was created by Seth Raynor in 1926 and finished nearly a year after his death. This relatively short course features the signature Raynor geometric-shaped bunkers and greens amid a landscape covered with valleys and ravines
Summary of the Best Golf Courses in the U.S.
Hopefully, you already pinpointed a number of courses to try for a good day on the links. With this level of diversity and challenge, you'll be sure to have a good time while flexing your handicap.