One of the beauties of playing golf is the opportunities to explore golf courses around the world. Imagine being able to have holiday getaways to luxurious resorts and be able to play golf. Every golfer in the world has this dream to play their favorite sport and travel to iconic and scenic places in other countries.
It is hard to make a decision where to go to either because they all seem so lavish! Hopefully this list will help inform you about a few of the best golf resorts in the world. There's still a lot of time to decide which golf resort you want to travel to with the current Covid-19 situation. Fingers crossed that this pandemic will come to an end in the near future then we could all go back to our normal lives and start golfing peacefully again!
Best Golf Resorts
The St. Regis Saadiyat Island Resort, Abu Dhabi – United Arab Emirates
This luxurious resort is an experience like no other. Your rooms at The St. Regis Saadiyat Island Resort comes with your own private terrace with panoramic views of the Arabian Gulf and Saadiyat Beach Golf Course. It was created with Mediterranean architecture and a contemporary interior design. When you are not on the golf course, the resort offers a range of watersports or you can relax by one of their 3 private pools on the resort's private beach. Furthermore, The Iridium Spa is an incredible place to unwind. They offer individual treatments tailored to you whether you wish to be completely relaxed or energized.
The Saadiyat Beach Golf Course was designed by Gary Player. It is truly an amazing golfing experience alongside the Arabian Gulf with many of the holes hugging the Arabian Gulf. You may even spot wildlife along the course when you are playing such as gazelles, dolphins and turtles. Moreover, it only takes a 20 minute drive to get to Abu Dhabi Golf Club and 25 minutes to Yas Links Golf Club.
Banyan Tree Resort, Phuket – Thailand
The Banyan Tree in Phuket has been recognized countless times as Thailand's and Asia's best golfing destination. Along the golf course you can get backdrop views of the Phuket mountains, lagoons and tropical foliage. Moreover, they have USGA specified greens which will guarantee quality putting surfaces for golfers. It is a Par 71 course designed by architect Paul Jansen with numerous water hazards along the 6756 yards.
The resort is a private paradise. They offer villas with their own private pools for intimate and romantic experiences besides golfing. Surrounded by a saltwater lagoon and lush greenery, this is the perfect destination for a golf getaway, relaxing staycation and romantic getaways. Definitely one of the best golf resorts in Asia.
The Lodge at Kauri Cliffs, Northland Region – New Zealand
New Zealand has multiple stunning settings for golf courses but only a few can match The Lodge at Kauri Cliffs. The Lodge sits on 6000 acres with views over the Cavalli Islands, Cape Brett and the Pacific Ocean.
The par 72 Kauri Cliffs championship golf course was designed and built by David Harman. Recently, Kauri Cliffs underwent renovation from golf course architect Rees Jones to touch up some of the holes in the golf course. Measured at 6528 meters, they offer five sets of tees to challenge golfers of all skill levels. They have 15 holes with views of the Pacific Ocean where 6 of which are played alongside cliffs which plunge to the sea. Truly a breathtaking golf course with magnificent cliffside views of the Pacific Ocean.
Pebble Beach Resorts, California – United States of America
Most golfers know about the famed Pebble Beach Golf Links. It is rated the No. 1 public golf course in America by Golf Digest. However it is only 1 of the 5 famed golf courses in the area. Pebble Beach hosted its sixth U.S Open in 2019, more than any other course over the last 50 years. Furthermore, every February, the PGA Tour visits for the AT&T Pebble Beach Pro-Am event. It is a tradition that began in 1947. The par 3 7th Hole at 109 yards is undoubtedly the most iconic par-3 holes in all of golf. Also the shortest hole on the PGA Tour however depending on the prevailing wind, hitting the green can still be far from an easy task.
Pebble Beach Resorts has been a special seaside escape for golf. There are 3 unique resorts to choose from, The Lodge at Pebble Beach, The Inn at Spanish Bay and Casa Palmero. For golf lovers, it is always a dream to be able to play at the remarkable Pebble Beach once in their lifetime!
Constance Belle Mare Plage – Mauritius
Constance Belle Mare Plage is a stunning hideaway in Mauritius offering a luxurious setting. Choices of junior suites, family suites , villas and the lavish Princely villa are available. The design of the resort combined with the lifestyle and natural water reserves instills a sense of tranquility. Furthermore the rooms are inspired by Feng Shui principles like the beds standing high above the floor to help Qi circulation.
The golf course offers a 36-hole layout with the Legend Course and the Links Course. The former opened in 1994 and it moves through an indigenous forest and along some of the most beautiful beaches in Mauritius. The Links Course however is a shorter course compared to the Legend Course. Still it offers a testing challenge for all levels of golfers.
Terre Blanche, Provence Côte d'Azur – France
Located in the Provence Côte d'Azur in southern France. Terre Blanche is a five star resort that is integrated within the region's picturesque lakes, forest and waterfalls. They have 115 suites and villas which have lovely views.
Terre Blanche hosts two 18-hole championship courses Le Château and Le Riou. Le Château is a demanding 6616 meter 18-hole course which offers an exciting challenge for golfers. There are numerous water hazards along the 18 holes. Moreover, Le Château holds the annual French Riviera Masters on the Senior European Tour.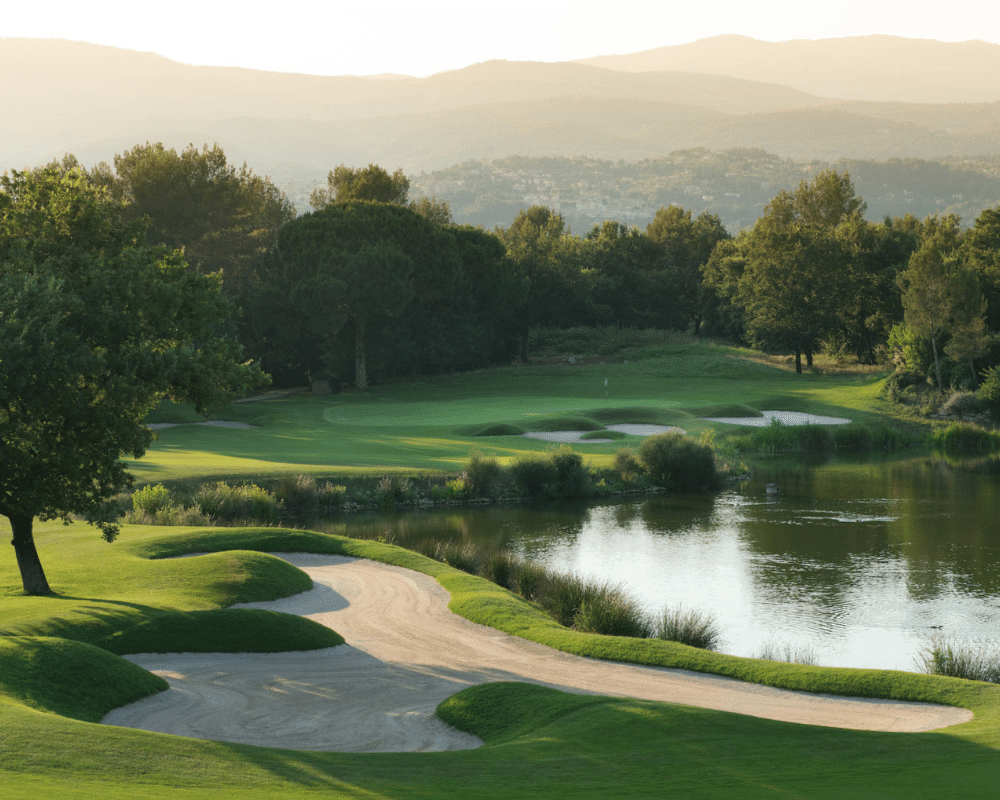 Laucala – Fiji
A stunning 18-hole golf course with backdrops of volcanic mountains and clinging to a sheer cliff dropping into the Pacific Ocean. Laucala's 18-hole golf course was designed by Scotsman David Mclay Kidd. Undulating fairways, challenging greens and strategic bunkers will appeal to both experienced and novice golfers.
Upon landing on the private island of Laucala in the resort's private jet or your own, you are only a few minutes away from teeing off on their spectacular golf course. The resort is equipped with 350 staff for just 24 villas therefore most of your needs will be met there. Off the course there are numerous land and water activities available.
Hopes that Covid-19 Ends Soon!
As for now we can all just wait and pray that this global pandemic ends soon so that we can go on these beautiful vacations to golf resorts and play the game we love the most. In the meantime do remember to practice diligent social distancing to prevent this from spreading even more and golf safely.
Besides that, golfing during covid-19 can also be safe as long as golfers practice the proper standard of procedures! If you are looking for the best golf courses in the world here it is. Maybe you are nearby one of them and are able to play there so check it out!
Looking for golfers when your group of friends are not available? Why not try out Deemples! You can download it from the Apple store or the Google play store and join or host games. Golf clubs also host games on it for golfers to join on the daily! Download Deemples today and never golf alone again!