Most golf clubs actually could be used by both men and women. Although some major golf brands do release some of the best golf sets specifically made for women. One key aspect to note is the shafts. Ladies usually use a ladies flex or an "L" flex on their clubs. These prove to be more forgiving as it is more flexible.
Related: Introduction to golf shafts
These golf clubs come in a set and include a bag so you ladies do not have to worry about finding specific golf clubs to fill the bag! Furthermore, the colour waves on these clubs are pretty!
10 Best Golf Clubs For Women 2021
The Strata Ultimate women's set is packed with modernized golf technology to give you ultimate distance, performance, and forgiveness for every club in the bag!
The set includes:
Driver
3 Wood
4 & 5 Hybrid
6-9 Iron
P Wedge
S Wedge
Putter
4 headcovers
Stand Bag
Callaway is a great brand. This set is good for beginner and intermediate golfers. There is an appropriate gapping between clubs in this set. Finally, the bag comes with a stand so it is easy to carry around. Expect longer shots with ease, more control and more confidence, all at an incredible value! The only con of this set is that it comes with 11 clubs. It could use a few more additional clubs to be better like maybe an extra wedge.
The Strata Plus Complete women's set is a full set for women who want a great combination of distance and forgiveness right out of the box. The set is designed with distance and forgiveness technologies for women who want to easily hit accurate shots that go far!
The set includes:
Driver
5 Wood
5 Hybrid
6-9 Iron
P Wedge
S Wedge
Putter
3 Headcovers
Stand Bag
Thanks to modern technology, there is a large sweet spot throughout all the clubs to promote more forgiveness and distance. The clubs are lightweight and it really suits women golfers. Besides the aesthetically pleasing set, the stand bag is of high quality with loads of storage around it.
Cons of this bag is that it does not contain a 3 wood and that there are only four full length dividers which is not fully effective to protect your clubs.
Wilson Staff has been a leading provider of golf clubs and equipment since the early 1900s and is hugely popular with golfers thanks to their top-quality products. The Wilson Golf Women's Ultra Package set is a set of high quality clubs that helps improve your skills throughout your golfing journey. The clubs in this set offer distance, forgiveness and accuracy.
The set includes
Driver
Fairway Wood
Hybrid
6-9 Iron
P Wedge
Putter
Headcovers
Cart Bag
The pros in this set is the low centre of gravity (CG) in the clubs giving maximum forgiveness. This way the sweet spot is larger. Moreover, the clubs are lightweight and have flexible shafts. The cart bag included is durable and is easy to carry around.
One con of the set is that it only includes one wedge. Adding a sand wedge would make the set more complete for shots closer to the green.
The Aspire XD1 Ladies complete golf club set is a great option for new players to the game. The clubs feature high quality, lightweight graphite shafts. Furthermore, the XD1 Ladies complete golf set is suitable for women who are about 5 ft 7 inches up to 6 feet. They come in regular and petite so keep in mind that they should suit most heights.
The set includes:
Driver
3 Wood
21° Hybrid
6-9 Iron
P Wedge
Putter
Stand Bag
Unfortunately, the set only comes with 9 clubs. Furthermore, it does not come in a left-handed orientation and is not the best for intermediate or advanced players. On the bright side, the club design is attractive as it comes in pink and chrome appointments. The set is lightweight and easy to carry around the comfortable bag.
This Cobra Women's XL 2019 set is the perfect starter set for ladies who are just getting into the game. The clubs are lightweight and easy to hit. This allows you to focus on having a great time on the course without worrying about not trusting your equipment.
The set includes:
Driver
3 Wood
5 Wood
7 Wood
5 Hybrid
6-9 Iron
P Wedge
S Wedge
Mallet Putter
Cart Bag
The premium cart bag that comes with the set includes a 14-way top to separate your clubs, 7 zippered compartments and 1 velour-lined valuables pocket. With 14 clubs it is a complete and comprehensive set. It is a stylish set with quality and effective grips. One of the best golf clubs for women no doubt. One con to think about is the price of the set. It is somewhat expensive.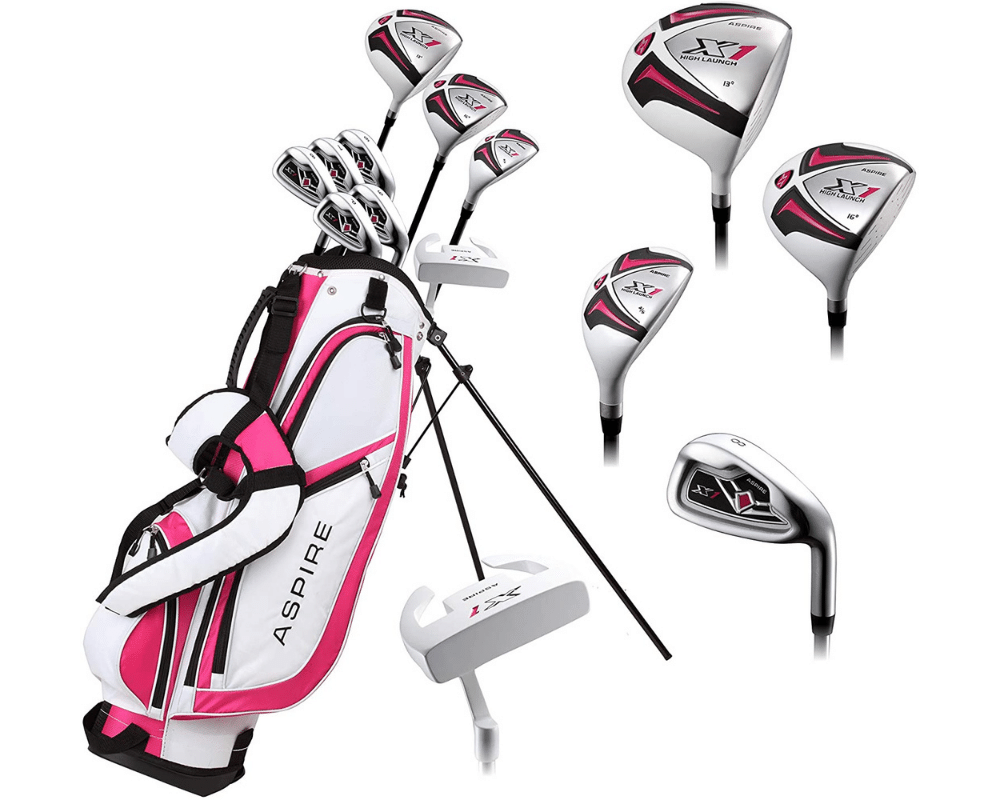 Another set from Aspire, this set is perfect for beginners of the game. The matching bag and headcovers are very aesthetically appealing along with the colours of the set.
The set includes:
Driver
Fairway Wood
Hybrid
6-9 Iron
Putter
Headcovers
Stand Bag
Rain Hood
This set is a perfect combination of style and performance. From the driver down to the wedge, each of these clubs offer increased forgiveness, confidence and style. If you are worried about sizes, the X1 Ladies' complete golf set offers a petite and regular size. The driver head is made of titanium. The stand bag is durable and also comes with a rain hood which is great for rainy days!
Cons for this set is that they are hard to locate and they only come in right-hand orientation. Finally, the grips feel a little cheap.
The Precise Premium Ladies Complete Golf Club Set offers incredible performance in an extensive package. Each club offers a similar experience from either the tee or fairway with a lightweight graphite shaft keeping your swing fast and your yardages long.
The set includes
Driver
Fairway Wood
Hybrid
5-9 Iron
P Wedge
Putter
3 Headcovers
Stand Bag
The irons are oversized and offer maximum forgiveness with high spins for softer landings on the greens. The whole set uses high performance graphite shafts for a lightweight feel. Thanks to the deep groove system on the irons, they provide high spin rates and have a large sweet spot. This set is good for beginners and intermediate golfers. However, the stand bag may feel a little heavy on the top.
The Women's F-Max complete set from Cobra is the lightest and most forgiving family of clubs. Thanks to the lightweight and forgiving clubs, it helps maximize distance when you are hitting your shots on the course.
The set includes:
Driver
3 Wood
5 Wood
7 Wood
5 Hybrid
6-9 Iron
P Wedge
S Wedge
Mallet Putter
Full Feature Cart Bag
The F-Max Complete Women's set is a robust and complete set of golf clubs that can be used by beginner or intermediate golfers. Furthermore, there is a carbon crown on the driver and woods that offers more speed, distance and accuracy. The offset design on the clubs helps with forgiveness and launching the ball higher. However, the cons include the set not being very affordable. Also, there is no left-hand orientation for this set or tall or petite options. Finally, the cart bag has no stand therefore if placed on uneven ground could be hard to stand still.
TaylorMade is one of the major golfing brands in the market. They have engineered the all new Kalea 11-piece set to maximize your performance in each of the clubs. Every component of the club has been engineered to maximize clubhead speed. The ultra-lightweight construction is one of them. Furthermore, the speed pocket in the clubhead allows for high launch and added forgiveness.
The set includes:
Driver
3 Wood
5 Wood
5 & 6 Hybrid
7-9 Iron
P Wedge
S Wedge
Spider Mini Putter
Cart Bag
On top of the technology packed golf clubs, the set includes a premium spider putter. The spider putter is one of TaylorMade's best putters on the market with their Pure Roll insert for a better forward roll. There are also three colour options in their unique bag and headcover design
Gray / Green
Charcoal / Blue
Black / Violet
This is a great set for you lady golfers however, the only con is that the iron selection is limited with only a 7-9 Iron. With a 5 or 6 Iron added into the set, it will be more complete. Definitely one of the best golf clubs for women!
The new Solaire 11-piece set from Callaway is designed specifically for women golfers. With its premium design, fit, and performance, it can help you hit your best shots! The clubs are engineered with Callaway technologies for ideal distance coverage, forgiveness, and high ball flights out of a variety of lies.
The set includes:
Driver
3 Wood
5 & 6 Hybrids
7-9 Iron
P Wedge
S Wedge
Putter
4 Headcovers
Cart Bag
These game improvement clubs can help maximize distance and forgiveness in your game. The clubs are lightweight yet durable. In addition, the design is beautiful with premium pink and black finish options in the clubhead and in the shaft. The easy to align mallet putter can help you make more putts. However, the grips are a little thick and the price is a little high for a mid level set.
Summary for Best Golf Clubs for Women 2021
The best golf clubs for women are packed with modern technology to help your game by maximizing forgiveness and distance. Do check out these golf clubs in more depth if you are looking to buy a set. Find one that suits you or one that you like looking at as most of these sets are aesthetically pleasing!
If you are interested in golf shoes for women, check out the best women golf shoes. Additionally, if you are struggling with your game and looking for ways to improve, do find out how you can maximize your driving range sessions to improve!
Deemples is a golf app that enables golfers to reach out to other golfers around them. This way, golfers will never have to worry about not having buddies to play golf with. If your friends are not available, just hop on Deemples to find new golf buddies! Download the Deemples app and host or join games today! Never golf alone again!
Today's Best Pick