Choosing the best golf shoes for women is crucial because they act as the basis of your swing and usually, it can take up to three hours to walk 18 holes. As a golfer, when it comes to buying shoes, factors like the performance, comfort, and support of the shoes matter a lot. But for women golfers, the matter of the shoe's style is taken seriously because they want a shoe that offers stability and comfort and at the same time, makes them look good in it.
More companies keep pushing the limits of creativity for golf shoes and as a result, the latest women's golf shoes fit and meet all the criteria set by women. Soft leather, breathable insoles with foam padding, and a waterproof exterior that keeps you dry are only a few of the features that ensure comfort while you wear these shoes. With a variety of designs and colors to choose from, all golfers can easily get a pair that can match their outfits and not have to worry about their style anymore.
With all of this in mind, here is our list of the top 7 best golf shoes for women. Keep scrolling to explore the perfect choice to boost your performance.

1. adidas Women's Adizero Sport II Golf Shoes
These adidas golf shoes have a sneaker-like fit so you are recommended to get half a size bigger than your usual size. Adizero Sport II is lightweight with a ClimaProof mesh top and an external SprintWeb TPU layer that aims to give your side movements superior stability during your golf games. The outsoles are spikeless for increased grip and stability with swing plane traction.
Special Features:
Uppers are ultra-lightweight and made of ClimaProof wire
The SprintWeb TPU external layer helps to stabilize lateral movements
PureMotion spikeless outsoles provide improved traction
Lightweight cushioning is provided by the Cloudfoam sockliner
ADIWEAR's outsole lugs are resistant to abrasion

2. Skechers Go Golf Women's Max Golf Shoes
These Skechers shoes are great for golfing because they are extremely light, breathable, and comfortable. They can also help keep you balanced during tee shots and while on rough ground. They also make walking the entire distance comfortable, as you have on a pair of running shoes. The center sole cushioning is particularly sensitive and light at the same time. The TPU outsoles have undergone a thorough testing process and have been proven to be able to stand the test of time. The unique thing about Skechers shoes is their GOGA Max technology that has been installed into the insoles, allowing high rebounding and high-performance cushioning.
Special Features:
Cushioned comfort insoles with a high rebound
Outsole trim in contrasting color
Uppers are made of a soft, breathable mesh fabric
Grippy and long-lasting TPU outsoles
The midsole cushioning is light and receptive

3. adidas Women's W Tech Response Golf Shoes
These women's golf shoes from adidas look like sneakers but they have a secret characteristic that is ideal for an 18-hole golf course. The sole has a long durability with the six-spike design and the Thintech cleats provide traction power, stability and making it easy to walk on grass. They are extremely comfortable with the Cloudfoam padding and the leather uppers provide weather protection.
Special Features:
Microfiber leather upper with Climastorm water-repellent protection
Synthetic sole
Cloudfoam insoles provide ultra-light cushioning
6-spike thin tech outsole with ADIWEAR technology
Wider in the forefoot to improve overall comfort

4. FootJoy Women's Emerge
These FootJoy women's golf shoes are classically designed with a brogue-like look. The durable rubber outsoles improve turf gripping capabilities and the lightweight molded foam for the underfoot offers all the cushioned support that one would expect from any kind of shoe, be it golf or running. The other special feature that makes these shoes the more preferred choice for golfers is their water-resistant exterior so you can still enjoy a round of golf even when the course is wet.
Special Features:
Convenient and unbreakable golf shoes
Cleated and contoured performance
Molded light foam for comfort underfoot
Water-resistant, breathable, and robust
Property compound rubber outsoles for traction

5. adidas Women's PureBoost XG 2 Golf Shoes
The adidas PureBoost XG 2 Golf Shoes for Women is a perfect choice when walking the golf course and playing a few rounds because they are lightweight, versatile, and extremely durable. They provide light to moderate arch support and are built with adidas' Boost technology for energized cushioning. It also has a synthetic strip on the toe cap to help keep the dew off your feet. This pair will serve you best on sunny days but might not be an ideal candidate for dusty, snowy, or rainy weather.
Special Features:
Cloudfoam sockliner cushioning is light and comfortable
PureMotion spikeless outsoles have increased versatility
Midsoles that are extremely sensitive
Mesh uppers that are lightweight and stretchy
Ideal for female golfers who have wide arches

6. ECCO Biom Hybrid Women's Golf Shoes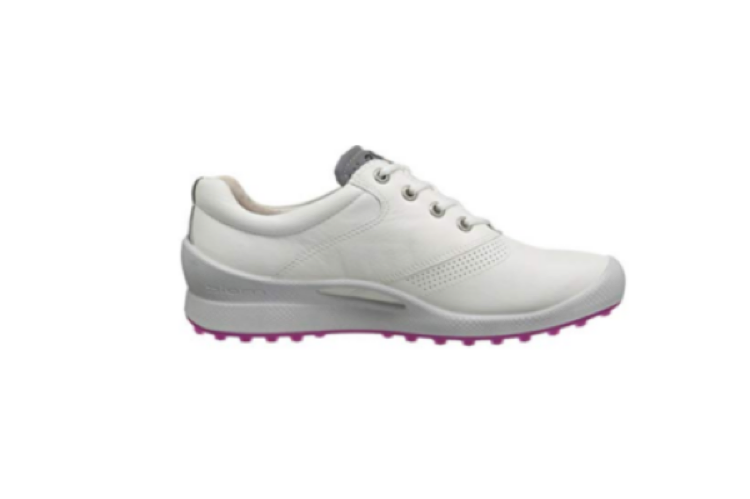 Another favorite among women golfers is the ECCO Women's BIOM Golf Hybrid Shoes, which is extremely comfortable and recognized for its footwear creativity. To ensure an established spikeless technology in golf shoes, 2500 athletes were tested to ensure that the shoe can work to the highest standard. The four dots on the shoe's design reflect "quality, comfort, technology, and style". These ECCO golf shoes for ladies offer incredible comfort for the golfer who needs comfortable walking shoes as well as weather safety on damp rainy days or the golf course in wet conditions.
Special Features:
Spike-free
Hydromax technology makes it waterproof
Walk 9 or 18 holes with ease
High-quality leather is soft and breathable
Available in three different colors to choose from

7. adidas Women's W Adipower Boost BOA Golf Shoes
These golf shoes feature a stronger build as well as cutting-edge technology. For a start, the shoes feature a new Thintech low-profile, 6-cleated TPU outsole which allows for increased performance, stability, and grip. The shoes' heels formed an S shape, ensuring a comfortable fit throughout your rounds. The midfoot and heel have foam that allows for continuous energy return and walking comfort. Also, adidas Women's W Adipower Boost BOA Golf Shoes are waterproof to provide support for your performance, anytime and anywhere.
Special Features:
Uppers are made of abrasion-resistant microfiber leather
Fit foam PU sockliner provides excellent cushioning
Boost technology is used in midfoot and heels for unlimited energy return
TPU outsoles with a low profile offer stability and grip
The S-shaped heel ensures a snug and comfortable fit
Conclusion
Golfing is just as much a mental game as it is for improving physical health, and it wouldn't hurt to look as stylish as a professional golfer! Every golfer needs at least one pair of golf shoes that enable them to perform as well as possible on an 18-hole golf course and long durability to withstand extreme weather changes. And of course, dressing appropriately according to dress code is just as essential as dressing with style.
No matter if you are a beginner, amateur, or a seasoned golfer, Deemples Golf App has a range of golf lessons with professional coaches, beginner-friendly to challenging golf courses, and competitions held frequently. Download the app today and expand your network of golfers!