For players, golf can be both thrilling and frustrating. Practice is the key. Your own set of golf clubs will help you make the most of your time on the course. You need the best golf sets that include irons, wedges, irons, drivers, and woods suitable for your level of experience and play style.
Similar to AdeptGolf.com, this blog offers information about golf equipment. Here's a list of the 6 best golf club sets for you. Find out the best golf clubs set to buy for the best experience and game.
1. Precise M5 Men's Complete Golf Clubs Package Set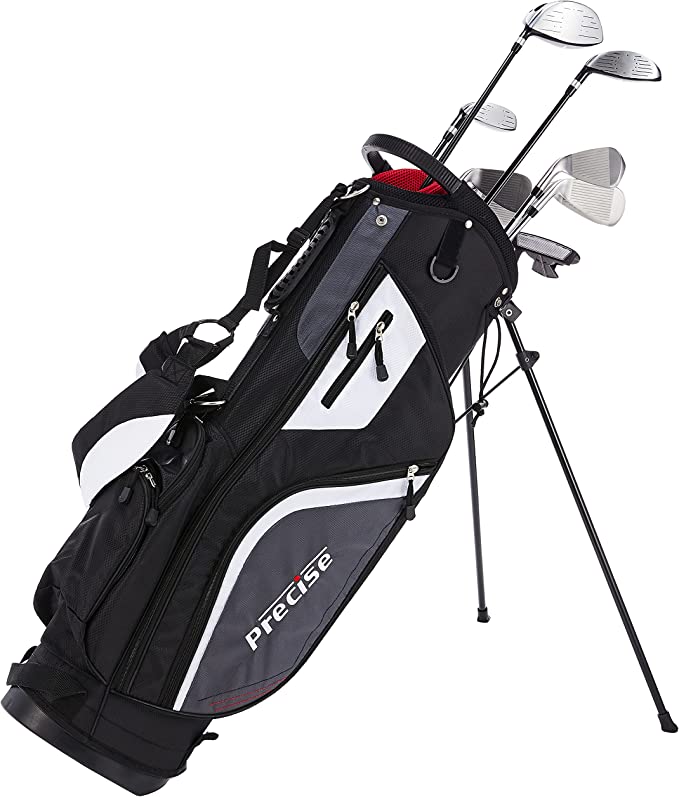 Price
$429.99 – $928.99
These best golf clubs for men come in a standard size as well as one made for taller right-handed golfers. These men's right handed golf clubs sets include a 460cc driver, putter, deluxe stand bag, 3 wood, 21 Hybrid, 5, 6, 7, 8, 9, PW stainless irons, and 3 headcovers. At an affordable price, it has all the basic clubs. At the beginning of your game, these are the basic clubs you need. There are steel shafts for iron and pure graphite shafts for wood. The 460cc driver and putter are designed to facilitate extensive distance and provide a great aiming mechanism respectively. This deluxe stand bag features a double shoulder strap, spacious pockets, and a kickstand.
2. Callaway Golf Men's Strata Complete Set
Price
$1373.14
It contains 1 driver, 6 to 9 irons, 3 wood, 4 and 5 hybrids, putter, bag, and headcovers.
Callaway strata club sets offer 4H and 5H hybrids that can help you gain a greater sense of control over your shots. The titanium 3 wood is a great choice for long and high-flying shots.
With high-flight technology, these irons are made from stainless steel. With long-range, they're balanced. The same material is also in the pitching wedge and sand wedge. This putter features a design aimed at improving distance control and accuracy. Also, you get a cool, convenient, lightweight, durable stand bag with pockets.
3. Wilson Golf Profile Platinum Complete Package Set
Price
$598.99
It has a big driver for a big distance even on off-center tee shots, a fairway wood, and a forgiving 5-hybrid. For an easier downswing, the midsize irons have a long stainless steel shaft with toe-to-heel weight distribution. The putter also comes with an alignment aid, so you can feel confident when aligning your putt. With Wilson golf profile platinum complete package set, you get a lightweight and price-conscious package.
4. Cobra Golf 2019 Men's XL Speed Complete Golf Set
$1904.66
This set comes with a driver, 3 and 5 wood, 4 and 5 hybrid, 6-9 irons, Pitching Wedge, Sand Wedge, Blade Putter, a titanium driver, and a cart bag. If you're interested in high towering shots, then this package is for you. The 3-wood and 5-wood both offer shallow profiles.
It also has a 4-Hybrid and 5-Hybrid. The higher launch of these drivers will certainly make your life easier on the golf course if you struggle with hitting drivers, irons, or woods.
In addition, the irons have sole-width technology and perimeter weighting. Your shots will be more accurate and controlled.
5. Wilson Youth Profile JGI Golf Set
Price
$245.98
It is ideal for children aged 8 to 11 years old. You also get a lightweight kickstand carry bag with an included rain hood, and a titanium driver, hybrid club, iron, wedge, and putter.
A set specially designed for young players to improve their range and accuracy. Get your children excited about a sport that you too can enjoy for years together with these best golf club sets. Instill that passion from an early age. Plus, these are the best golf clubs for the money, especially for the little ones.
6. Wilson Women's Profile SGI Complete Golf Club Set
Price
$349.99
Wilson is offering a set of beginner golf clubs for women that are affordable, distance-yielding, and straight-out-of-the-box. The entire set can be used right out of the box, so you have everything you need to get out on the links. There are high-quality steel-shafted irons, a comfortable golf putter, 2 wedges for your short game, and a huge graphite-shafted driver that provides increased forgiveness for perfecting swings. A cart bag is included It is also available in a men's version.
Summary
It is crucial to have a good set of golf clubs to play better. You can feel overwhelmed when purchasing a golf club set. These are 2022's 6 top-rated golf clubs set. We hope you found our blog helpful.
Related: 5 Best Golf Drivers
Deemples is a golf app that enables golfers to reach out to golfers around them. With this technology, you would never have a fear of golfing alone again. Wherever you are, whenever you want, just head on over to the app and you'll find other like-minded golfers ready to play! Download the Deemples app and host or join games today! Never golf alone again.