Many people think of starting golf but the biggest barrier stopping them is the cost. You may be worried thinking that golf is an expensive sport. The cost of golf is not as crazy as you think. We are gonna convince you that it is not expensive! Instead of brand new or top brands, you could get lower level brand equipment or second hand equipment to start out. Maybe after when you're invested in it, you could then slowly save up and buy a set of clubs you like.
This is an introduction to golf and how much it would cost you to play or start!
Golf Clubs
You could get a new range of golf clubs but that will be expensive. Prices can go upwards from RM 2k for just an iron set. However you could get used golf clubs. These could be way cheaper than getting new ones. The choice is entirely up to you!
Where to buy them you ask?
Offline stores
Online Stores
Online Platforms for secondhand or potentially unused ones
Playing golf at the driving range
It costs around RM 10-25 per 100 balls depending on where you go. See it does not cost much to have a nice session of hitting balls. It's just like going for a round of bowling or badminton. You can hit 100 balls in an hour if you want to, depending on how fast you want to hit them.
Where are these driving ranges
Kota Damansara Driving Range
Almost all golf courses have one, not all though! Google them!
It is easy and accessible! All you have to do is drive there, park your car, find an empty bay, buy balls and start hitting balls!
Related: Best Driving Range in Kuala Lumpur
Playing Golf at the golf course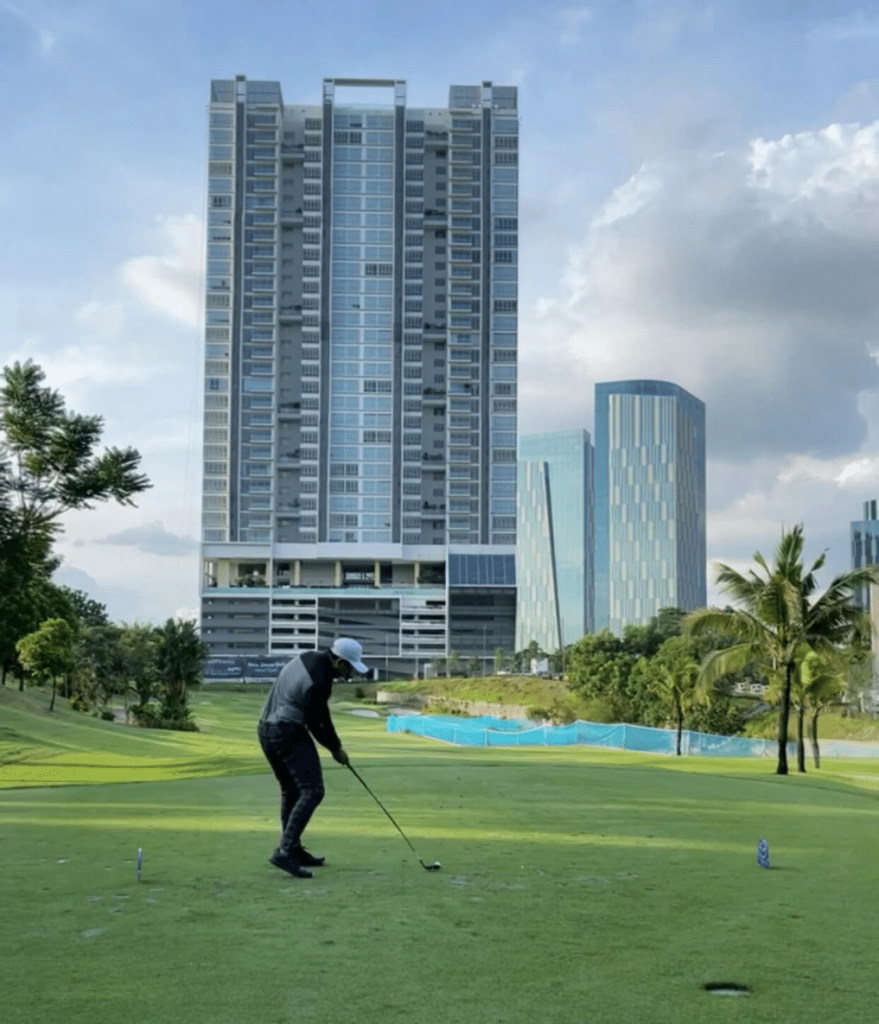 You can play 9-hole rounds or 18-hole rounds. The prices can vary. It ranges from a 9-hole walking golf course RM 30 at Bukit Utama, to high end golf courses like TPC at RM 700 per round of 18 holes on the weekend.
Think about it this way, you can buy both a Bentley or a Perodua. Both these cars can get you from point A to point B, it is just the differences in quality. Same goes with golf. You can play at really prestigious courses at a higher rate or a normal and decent course for lower rates. See playing golf does not cost that much!
Related: Best Golf Courses in Malaysia In 2021
Golf Memberships
This is another concern most golfers have before getting into golf. How much are memberships. The rough is
RM 1200 at RKKC
Ranges to
RM 200,000 at TPC
Regardless of what country it is, it varies in prices. There are different types of memberships:
Own the club + Land
Own the club + Lease the land
Owning the license to play

Term memberships
License to play for a period of time (Basically paying upfront for your golf, at a lower price total, but bigger upfront)
Is it necessary to get a membership though? It really depends on what you want. If you want variety in your golfing life. You might want to be able to play wherever and not feel tied down just cause you spent a big sum on membership. Some club memberships have affiliates so that you might get to play at other affiliated clubs for a discounted price or for free.
Golf Coaching
Finding a golf coach is not very hard. Most clubs have their own inhouse pro. The cost will range at approximately between RM 150 – RM 600 per hour. Most golf coaches have their own packages so that you can get the full experience and knowledge into golf.
Paying per session (per hour)
10 hour package
Some even offers 6 hour packages
However, not everyone learns by getting a coach. Some choose to learn by themselves. You may wonder how they do it and get so good? They use a mirror or phone to record their swings and figure out what they want fixed. Furthermore, they can go on YouTube to look for swing videos to learn. Practice is important! These are mainly driven by your goals in golf. It could be that you want to play for fun, to improve, or to become a professional golfer.
One final note, you will never know if a specific coach is good for you until you try them out. Certain coaches might work for certain people. Like buying wine, not all expensive wine suits you, you need to find the one you like.
Related: Golf Coaches Online: Improve Your Game Remotely
Golf Apparel and Accessories
Most golf courses require you to wear a specific attire which includes
Collared shirt
Trousers/Shorts with belt loops
Golf Shoes and socks
On the contrary, some golf courses are adapting with new trends to be more casual. In some western countries, golfers can even wear slippers and singlets to golf courses!
Where can you find proper apparels for golf? Most golf shops sell golf apparel on top of golf clubs. However, it is not necessary to get golf specific ones. As long as they fit the dress code, you can get them from anywhere, even non-"golf" ones. Some may even cost less
Prices can vary depending on how fancy you want to be.
PG/Local brands – Promo can be as low as RM 39 per shirt
Middle brands – Nike/Adidas/UnderArmour can be around RM 200-300 per shirt
Higher end brands – J. Lindeberg/Calvin Klein/Hugo Boss can cost upwards of RM 500 per shirt
Golf Shoes – RM 100 to RM 1000 depending on what you like!
Related: Best Golf Shoes For Men 2021
Summary
As you can see, golf can be affordable too. Don't let these non existent barriers stop you from picking up such a great sport. Even with the lower range equipment or course, you still get to enjoy the best part of golf, shanking a ball so deep into the woods that you feel a little part of you disappearing. That will happen no matter what priced equipment you use! It is inevitable! So do not let the cost of golf affect your decision too much!
If you do pick up golf and want to learn how to maximize your practice? Check out how you can improve your driving range practice. Moreover, you could check out some of these swing tips that could apply to you!
Over here at Deemples, we are a golf app that enables golfers to reach out to other golfers around them. If ever your golfing buddies are not available, you can look for others to play golf with on Deemples. Expand your golf circle and enjoy the game with others who love it too! Download the Deemples app and host or join games today! Never golf alone again!