Have you ever thought about buying a golf mat? You might have space in your house or the backyard where you could practice your golf swing. All you'd need is a golf mat and a net to hit the ball into. This way, you would not need to drive all the way to the driving range to practice every time with the beaten up golf mats.
Times like now during the pandemic maybe practicing at home would be the smarter move to keep you and people of your household safe by limiting contact from beyond your home. Getting a bad quality golf mat is not good for your joints as they will not absorb shock from the impact efficiently. This list will include the best golf mats we have found.
Best Golf Mats
The Dura Pro Commercial Golf Mat is a full sized golf mat at four by five feet. It has been range tested for its durability. At four by five feet, it serves as a full sized mat for golfers to stand on while practicing. Tee holes on both sides allow left or right handed golfers to tee it up for a drive as well.
The best feature of this golf mat is the hitting surface. The 100% nylon for durability and smooth glide of the club, with thick padding underneath that absorbs shock at impact. This allows it to absorb shock to the joints preventing injury while the club comes in contact with the mat.
This mat is also non-staining therefore the soles of your club will not turn bright green. Saving you the troubles of cleaning your sole because of the mat. Available on Amazon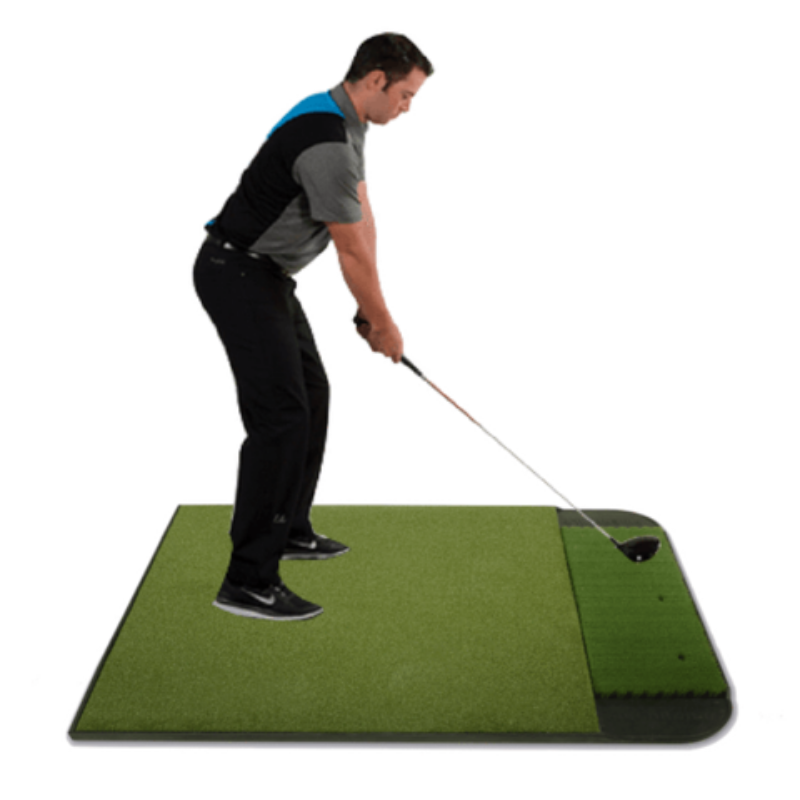 Fiberbuilt is one of the leaders in golf mats and indoor putting green solutions. Their golf mats are made of quality materials to allow the turf to be thicker than usual budget golf mats with thin turf surfaces. Fiberbuilt uses a unique blend of materials to simulate real grass on the course.
Their patented design provides a much more realistic hitting experience as it allows the clubhead to dig into the turd as it would on the course. This also allows it to absorb the shock to your joints especially your elbow. In addition, another unique feature is their rubber base. They have a unique modular design that features a strong rubber frame with inserts in between called EPS pods. This allows better stability, shock absorption, and comfortable footing.
Fiberbuilt Golf Mat options
4' x 7' Single Sided Studio Mat
4' x 5' Single Sided Performance Golf Mat
Flight Deck Mat
4' x 9' Launch Monitor Golf Mat
The first 3 are full sized golf mats. The bigger ones allow you to have your launch monitor level on the hitting surface. Finally the Flight Deck Mat is an option for golfers who just want to try out Fiberbuilt's proprietary hitting surface instead of buying an entire mat.
Overall, the combination of their turf hitting surface and the strength of the fram makes Fiberbuilt one of the top practice mats on the market. Especially for golfers who want to build indoor simulators at home.
SIGPRO is an exclusive hitting mat designed by Shop Indoor Golf. It was designed to address the most common criticisms golfers have with many existing mats in the market, such as being too forgiving, not being able to take a tee.
The turf density is easy on the joints and its soft and durable foam backing is comfortable without being too heavy.
The SIGPRO Golf Mat sizes:
4' x 10' Golf Mat
4' x 7' Golf Mat
These support both left and right handed play. It uses a SIG proprietary blend tee-line turf that takes a normal teepeg for hitting. Furthermore the hitting strip can be easily swapped.
The GoSports Pro Golf Mat is a hit with recreational golfers who practice for enjoyment. It serves as a quality budget golf mat for casual golfers. It offers maximum durability and impact-feel in an entry-level mat and non-slip padding for a sturdy base.
Unlike mats that were designed to serve the harsh treatment of all-day use at public driving ranges. A good quality mat for home use doesn't need the same elements as that. The 15mm layer of non-slip foam padding offers a comfortable impact as well as stability on indoor or outdoor surfaces. It includes a socket that accepts wooden tees along with range rubber tees at varying heights to suit golfers needs.
The Rukket Tri-Turf Golf Mat is designed with three lengths of turf. This allows golfers to train on hitting the ball in different conditions and to adjust the length and difficulty of shots as they require. The Rukket Tri-Turf Golf Mat offers exceptional value for money as it includes:
9 premium Rukket Practice golf balls
12 tees of varying lengths
3 different turf levels
It is portable at 25 inches x 16 inches. Quick and easy to set up either indoors or outdoors. This golf mat is incredibly durable and long-lasting and even comes with a lifetime guarantee from the manufacturer.
However, the only downside to this golf mat is that the surface may be considered too thin. On a budget, this is a good value golf mat. If you are worried about the thin surface, you can consider using it mainly for chipping. This way the chances of getting your joints hurt are minimal.
Summary
These are the best golf mats in the market now. Hopefully all you golfers are able to take your game to the next level by being able to practice in the comfort of your own home! Other items you can look for can be found here with the Top 5 Golf at Home Items you should have!
If you don't have the space at home for all these equipment and need to just use the driving range to practice, that is also fine. Here is the list for Driving Ranges in Kuala Lumpur. Lastly, to make your driving range sessions more efficient, you could also check out this article on how to Maximize your Driving Range Practice Sessions!
Over here at Deemples, we are a golf app that enable golfers to find other golfers to play with. If ever your golf buddies are unavailable, you do not have to worry as you can reach out on Deemples to find other golfers to fill your flight! Download and host or join games on the Deemples golf app today!