12 Jun

Top 6 scenic golf courses in Malaysia
This post shows you the top 6 most scenic golf courses in Malaysia.
Malaysia is one of Asia's top golfing destinations. However, with more than 150 golf courses to choose from, and warm weather all year round, Malaysia is the perfect place for your next golf getaway. The South China Sea divides Malaysia into two separate regions: West Malaysia, and East Malaysia. Both regions feature stunning scenery, such as white sand beaches, lush tropical rain forests and cool green mountains. And both regions feature stunning golf courses that challenge golfers of all levels. Here are six of the most scenic golf courses in Malaysia:
1. Awana Genting Highlands Golf & Country Resort
Rolling greens and cool air characterise this 6,117-metre (6,689-yard) course, where one wrong swing could see your ball land in a forest, pond or ravine.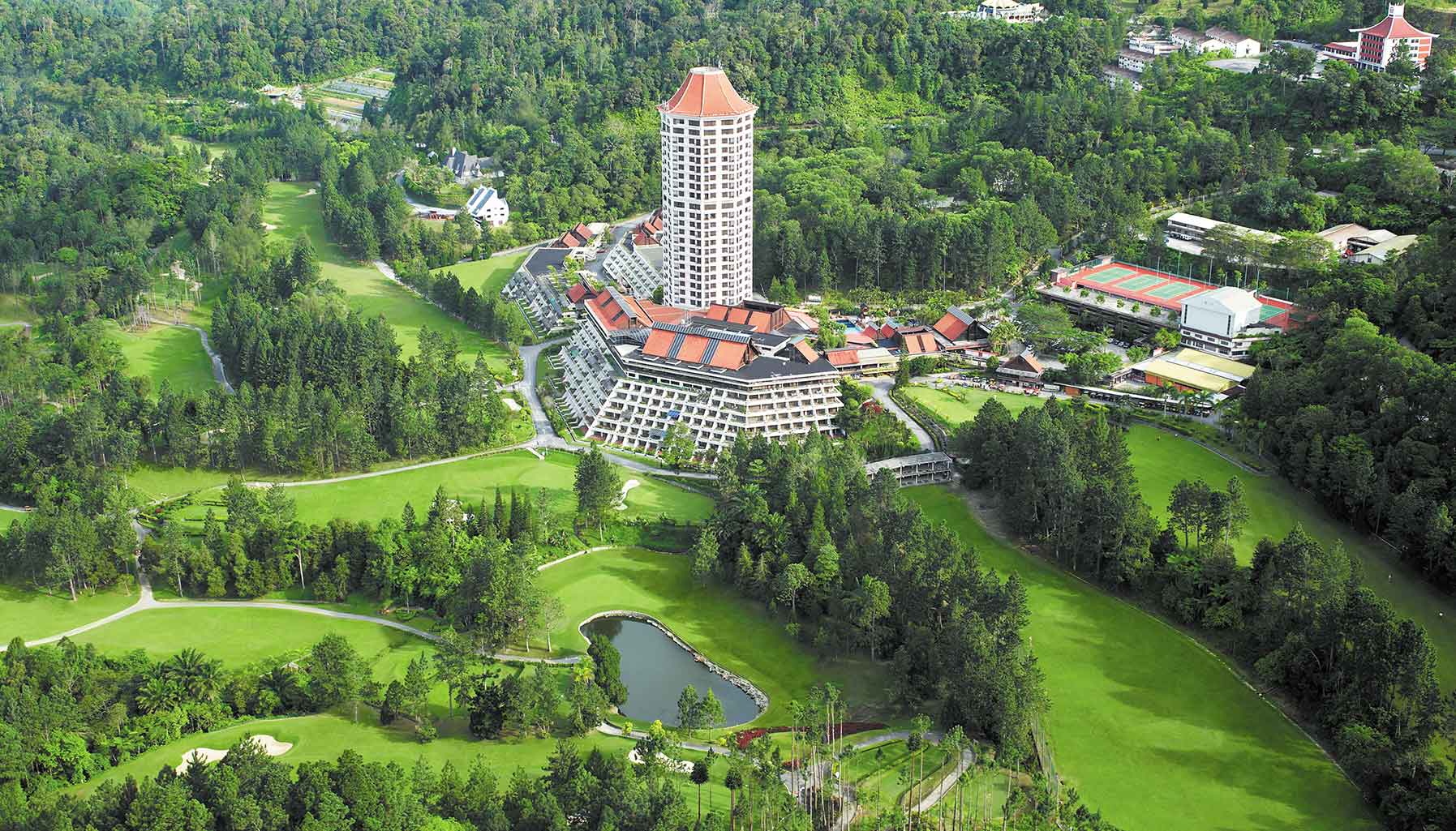 The cool, crisp air of Awana Genting Highlands Golf & Country Resort awaits you only an hour's drive north of Kuala Lumpur. (Pic: Robb Report Malaysia)
At 945 metres (3,100 feet) above sea level, this spectacular course is all about trees and views. Located in the Genting Highlands resort, this 18-hole, par-71 course was designed by Ronald Fream, and offers a breather from the heat and humidity below.
Head on up to the resort and casino after your game, and relax with the vast array of restaurants and entertainment facilities there.
2. Clearwater Sanctuary Golf Resort
Located on a former tin mining site, Clearwater Sanctuary boasts 27 beautiful holes. Large lakes dot this award-winning resort, helping it sparkle as one of Asia's most scenic golf courses.
(pic: gtknj, Flickr)
Located in Perak State about 200 kilometres (124 miles) north of Kuala Lumpur, Clearwater Sanctuary consists of the Raintree, Lakes and Wetland Nines.
The 3,613-yard Raintree Nine is named for the many large rain trees lining its fairways, while the 3,581-yard Lakes Nine gets its name from its water hazards.
The Wetlands Nine, meanwhile, offers golfers a chance for a quick game to practise their skills. At 1,518 yards, the Wetlands Nine is also good for beginners.
3. Bukit Unggul Country Club
Watch as majestic eagles soar high above this course, located less than an hour from central Kuala Lumpur. Providing a "unique blend of natural beauty and great golfing," Bukit Unggul Country Club rests in a 65-hectare valley bordered by lush rain forest.
(pic: www.kuala-lumpur.ws)
The 18-hole, par-71 layout consists of the Swan's 9 and the Eagle's 9. The Ronald Fream-designed course rolls and ripples along its 5,858 metres (6,406 yards), so you need patience and keen club selection.
Watch out for monkeys who might come to share your food on the buggy while you're busy putting, as we did take a bit of their home away from them when we carved out this nice golf course!
4. Berjaya Hills Golf & Country Club
Tropical rainforest 150 million years old surrounds Berjaya Hills Golf & Country Club, which rests 762 metres (2,500 feet) above sea level.
Located in Pahang, Berjaya Hills lies only 45 minutes from Kuala Lumpur. The 18-hole, par-72 course features lush, rolling fairways and greens, as well as natural streams and lakes.
The 6,312-metre (6,903-yard) course has played host to a number of major tournaments. Some of the tournaments include the Hospitality Asia Golf Championship and the World Inter-Team Amateur Open.
Berjaya Hills Golf & Country Club sits 762 metres (2,500 feet) above sea level and offers views similar to this one while teeing off! (Pic: Berjaya Clubs)
5. Tawau Hot Spring Golf Club
Located in Sabah, Tawau Golf & Country Club offers 27 holes of championship golf: the original nine-hole layout near central Tawau, and a newer 18-hole mountain layout 17 kilometres (10.6 miles) away.
(pic: tawaugolf.com.my)
Set in a tropical rainforest, the newer 18-hole, par-72 Hot Spring course gives you spectacular views of the surrounding area. This 5,904-metre (6,457-yard) course was designed by the club's own in-house designer group, with help from club members.
6. Dalit Bay Golf & Country Club
Formerly a mangrove swamp, this wetland course boasts beautiful views of the Mengkabong and Tambalang rivers, as well as Mount Kinabalu, Malaysia's highest peak.
At 4,095 metres (13,435 feet), Mount Kinabalu is the highest mountain in Malaysia.
(pic: Sabah Tourism Board)
Part of Shangri-La's Rasa Ria Resort, this 18-hole, par-72 golf golf course is located in Sabah. Distance from Kota Kinabalu is about 35 kilometres (22 miles).
Water figures prominently on the 6,738-yard course, so steering clear of the hazards and wetlands should be your top priority.
Again, these are just 6 of the many other golf courses in Malaysia, more posts to come to tell you more about other golf courses in Malaysia.
If you enjoyed this article, and want to visit Malaysia for golf but have no one to come with, you can find playing partners through the Deemples Golf App. Arrange your game in advance, even if your friends can't come with you.
---
This list is taken from Ken Hunter from Travel Wire Asia. We thought this post is so awesome we wanted to share it!