Deemples launched its referral and rewards program to award credits to reward golfers for introducing friends, and use Deemples.
Deemples Referral program
Deemples is useful only when more golfers are on the platform. We know a lot of you have recommended your friends to use Deemples in the past (and we thank you immensely for that), but now want to encourage you further by incentivising you to introduce even more friends to use the app.

There's a referral code you can use to share with your friends. It's located here:

Once your friend gets your referral code, they just have to apply it here:
Every time a new friends uses your link and makes their first payment via Deemples, they get RM30 and you get RM20 in credits!

You can track all your referrals here:

So the more friends you introduce, the more credits you earn!
========

Deemples Rewards program
Just like any other reward program, in Deemples you earn credits every time you make payment via Deemples at the various golf courses that accept payments via Deemples.

The amount of credits earned will show up here:

If you want to see a history of all credits earned, you can see them here: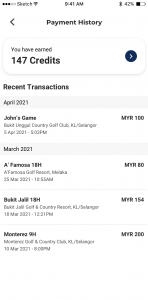 =========

How to use credits
You can use credits earned to offset any payment that you need to make via Deemples.

Once you join a game on Deemples that accepts payments, select the price that you're eligible for, then toggle to use the amount of credits you have available:

The new amount now shown will be the amount after deducting credits. You can now make payment via any of the methods available in Deemples.

After you make payment, you'd still be earning credits:

=======

Summary:
Keep introducing your friends to use Deemples, and use Deemples frequently yourself too. There's no other app that rewards you as much as Deemples!

Keep golfing!