My name is Yune. I am a pediatric anesthetist working in government hospitals, where I put babies and kids to sleep for surgery. My other identity will be a newbie at golf. Here's my story.
In search for golf
I started golf 3 years ago. It felt like it was time to indulge in a sport that can maintain health, cool down my always-on-the-go behavior and expand my non-medical social circle. In the early years of my medicine career, I was concentrating on pursuing dreams and goals (though has yet to be achieved till now!).
I was looking around, to pick the best sport that suits my petite stature, my personality and my challenge seeking character. I knew about Kelab Golf Perkhidmatan Awam, also known as KGPA (a government-funded golf course).
From the internet, I knew how challenging golf can be. I thought maybe golf is the best sport to invest since it is the only sport that can be played towards retirement and also it seems like it didn't involve much exertion.
I went straight to KGPA one weekend to apply as a member and since I didn't know anyone that golfed, I went to the driving range all alone and unguided.

Tough game and even tougher crowd
It was a struggle and no fun. I couldn't hit the ball, and couldn't even hold the golf club well. Being a reputable personnel in my own field, that 'freshie' feeling didn't feel good at all. I signed up and took 11 lessons and managed to learn to hold an iron. But I still couldn't hit well, couldn't drive, couldn't pitch, couldn't putt, and feared to go to the golf course.
I did try to walk alone on the golf course in my own club as a member, but the treatment I received from other members on the course was not welcoming. My first few experiences on the golf course were no fun at all, or rather intimidating and embarrassing. where experienced golfers were calling me names for my slowness, unfamiliarity, and directing me back to driving range 🙁
The fact that I hated the feeling of fear and humiliation, plus the lack of other beginners to golf and to learn with. My enthusiasm for golf faded away. I tried to look up on the internet to get help from local social golf groups but was unsuccessful.
On top of that, my heavy workload only allows me to practice during weekends, which was tough because the golf courses are busy on the weekends. So I gave up and stopped entirely, right before I was sent off to the UK for my sub-specialty training two years ago.
However golf had never been out of my mind, I adore how golf can trigger my thinking: A body-mind coordination game indeed. It was supposed to calm me down, allowing me getting fresh air and some exercise out in nature.

Picking up golf again after 3 years
Knowing I will never easily give up on things or goals that I adore. I tried to pick up golf again, soon after coming back from the UK and was actively looking for golf buddies on the internet and social app and even dating apps!
I got to know some friends and buddies through a 'Meetup' golf group. unfortunately, I couldn't join them for golf during weekdays due to my job.
Finding out about Deemples!
Finally just a few months back I got a message from another fellow golfer on 'Meetup', where I get to know the existence of Deemples app on The AppStore. It was easy to download and found out that it was a great platform to meet golfers and other beginners. Even though it was golfing with total strangers.
Due to lack of experience on the golf course, the first few games with strangers on Deemples weren't so fun. In fact quite intimidating, where I immediately headed back to the driving range to practice my swing diligently. With video recording for self-learning.
Charging forward and getting more exposure
I'm not saying that golfing with strangers was difficult. Since everyone was unaware of everyone else's golfing ability, some experienced golfers expected others to be well prepared before playing on course. Instead of practicing alone unguided and hiding away from others, I decided to move on and challenge myself by joining more games.
I also attended a handicap workshop hosted by Deemples. The more Deemples games I joined, I found out that there were a lot of beginners like me also on the Deemples app!
Most of the people on the app that I have met have been super encouraging, helping me to get along my game. Showing me great golfing tricks and tips. A lot of them do it because they know that they were at some point like me too – fresh beginners on the golf course.
So instead of pulling my leg, they helped me. They were paying it forward by helping another fellow golfer to get into the game.

Most golfers are friendly, they have all been there before
Frankly, not all golfers on Deemples are going to be 100% friendly. I have met some more stuffy ones, where they prefer to play with people at the same level.
But the occurrences of nice people far outnumber the opposites (since the picky ones probably wouldn't be on Deemples). If you're a newbie at golf like me, the only way you're going to improve is if you don't care. Continue pushing on.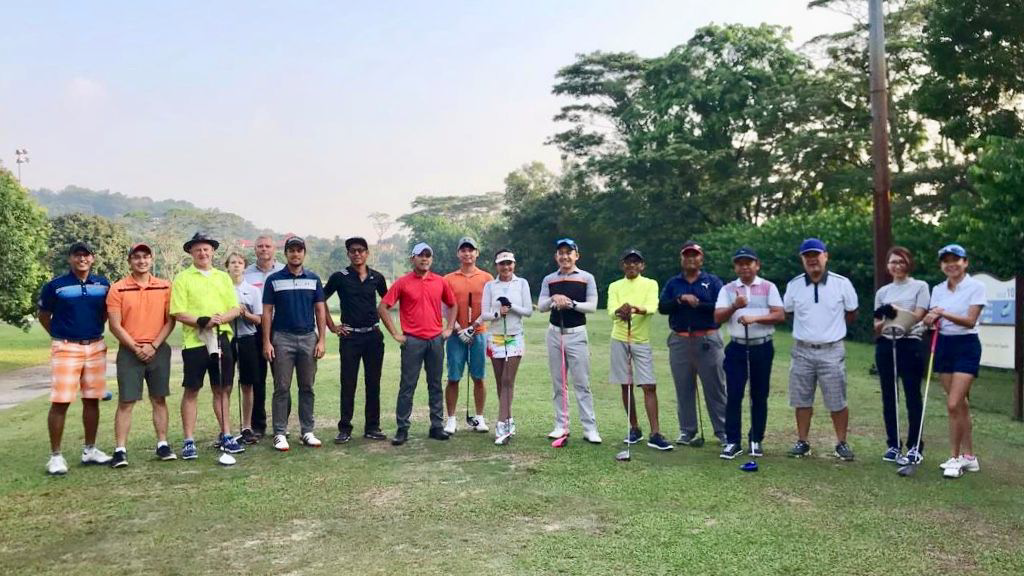 If I ever see another golf newbie on the golf course, I'd be there to help you. Just like how I got helped get eased into the game, and get familiar with the golf course. As a KGPA member, I am more than happy to host some games for newbies:)

Yune
A never-give-up anaesthetic doctor and golf newbie
Apr 2019