"5 tips for cheap golf? You're kidding right?" was probably what was going through your head when you clicked on this link. That's fair, the game isn't the cheapest sport in the world, if it was then there would probably be more than 1 percent of the population playing. But here at Deemples, we believe everyone can and should golf.
While golfing is far from cheap, price shouldn't be the reason you miss out on such a beautiful experience. Besides, golf isn't the only wallet-demanding sport out there and certainly isn't the most expensive.
With these 5 tips for cheap golf, we'll hopefully be able to get you out there on the green in no time and still save you enough money for a cool drink with friends after.
Disclaimer: These tips aren't meant to teach you how to get the best out of your game, it's just to get you through the door.
5 Tips for Cheap Golf
Cheap golf tip #1. Clothes
Some golfers dress to impress but if you're on a budget then you're likely not going to care that much about what you're wearing as long as you get to play the game. Proper attire dictates that golfers wear a tucked-in collared t-shirt and golf shoes. I'm not going to sit here and insult your intelligence by telling you where you can get a collared t-shirt but as far as golf shoes go, you can get them on Lazada for about as cheap as RM80 (US$19.92).
Cheap golf tip #2. Forget the green (for now)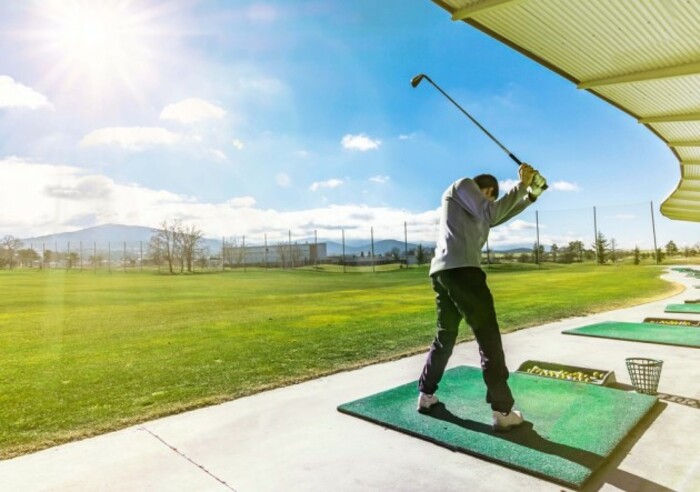 I'm sure part of what got you excited about golf was the wide-open spaces and the almost majestic greenery, but that just isn't practical right now, especially if you're a beginner. On the plus side, driving ranges give you a chance to practice your swing without burning a hole through your wallet (no pun intended). You also won't need to spend nearly as much on gear as you would if you were hitting the green.
Now you can join Golf Lessons for Beginners exclusively on Deemples! To help you with your first step, Pro golfers & Coaches are now giving golf lessons on Deemples to guide you depending on your level. Starting from only RM25!!!
Check this out for the best driving ranges in Singapore. Alternatively, those golfing in Malaysia can also check this link out to find the best driving ranges in the KL.
Cheap golf tip #3. Walk
If you've played a few rounds of golf and want the full experience then you can still save a lot by choosing to walk instead of riding a cart. Bonus points: (1) lugging your golf bag around while taking a stroll from shot to shot can be good for you and (2) you'll get a fuller experience of the course.
On Deemples app you can find Walk 9 holes games starting from only RM30 at The Club Bukit Utama. Open the app, search 'Walk 9h' & join the game that suits you.
Cheap golf tip #4. Second-hand clubs
Golf clubs are expensive, there's no doubt about it. Knowing you'll need more than one doesn't help the matter. What does help matters are second-hand golf club sites.
Cheap golf tip #5. Deemples golf app
While one of Deemples biggest aims is to connect golfers together, we do a whole lot more than that. You can find other golfers & also book your game – all in one app! On Deemples you can see how much it would cost to join for a game of golf and find the price that best suits your needs. 
And there you have it, 5 tips for cheap golf to send you on your way to playing the beautiful game on a budget. There are loads more ways to make golfing cheaper for you and there's little doubt that you'll find them on your journey to becoming a full-fledged golfer.
Signing up at Deemples will also get you together with other golfers who possibly have their own tips to share. You'll be shouting "fore!" in no time.